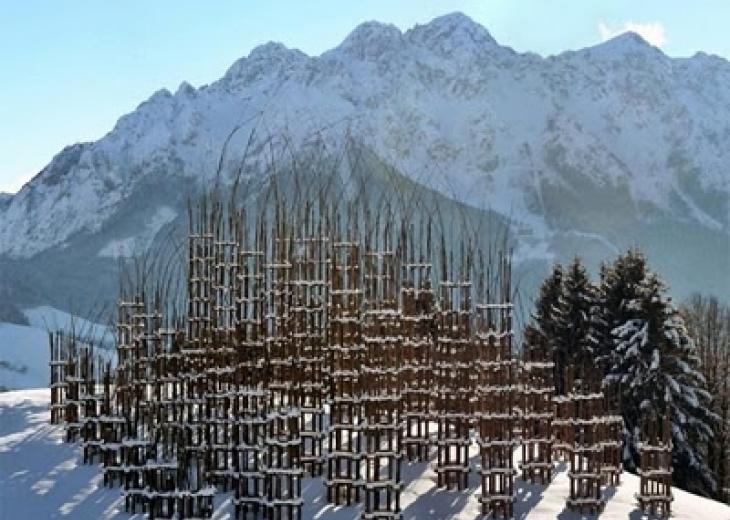 Sui passi di Giuliano Mauri
The project sui passi di giuliano mauri (on giuliano mauri's steps) is a tourist and cultural valorisation project through the work of the contemporary artist giuliano mauri in lombardy. The project, thanks to the contribution of the lombardy region, integrates and synergies profit and non-profit cultural operators – castello di padernello foundation, polyedros srl and our milleponti viaggi chiari tours srl, in collaboration with the giuliano mauri association – to enhance the valuation. And cultural of lombardy by promoting tourism and thus producing positive results for the local economy.
Giuliano Mauri is an exponent of the "art in nature" movement which, for his ability to enter into relationship with nature, has been nicknamed "the weaver of the forest".
His poetics is based on the profound dialogue existing between the human being and nature, trying to leave minimal, essential, slight signs, in the perspective of a continuity and a mutual completion between art and nature. The fragility of his works forces a reflection on the concept of perennial transformation to which natural elements are subjected, considering transience as a constitutive element of every living being that inhabits the world in its constant evolution. The project focuses on three significant places for Giuliano Mauri's art: Lodi, Padernello (Brescia) and Oltre il Colle (Bergamo).
Lodi is the artist's hometown; Padernello (Brescia), where, near the Castle, there is the San Vigilio Bridge, the last work created by the artist in 2008. The Castle also hosts other works of his. Finally Oltre il Colle (Bergamo) where, at the foot of the Mount, in the Orobie Bergamasche Park, the soul of the Vegetal Cathedral remained, built posthumously in 2010, and which in 2018 – following a storm and a strong wind – it has undergone a transformation that has highlighted both the intertwining of the fragility and power of his work which is not destroyed, but transformed, and our difficulty in accepting deeply and thinking in a different way about transience.
Milleponti Viaggi will therefore promote events and initiatives that want to highlight the tourist value of Lombardy through the poetics and art of Giuliano Mauri.